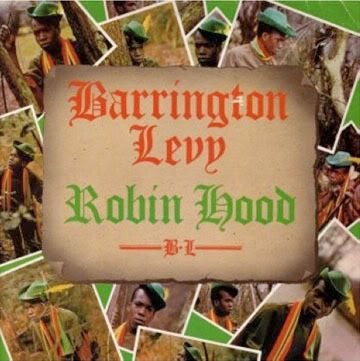 After Barrington Levy and Junjo unleashed their
"Englishman"
album reggae had been changed forever. The albums that come from this time have always been my favorite out of any era in reggae period and 'Robin Hood" is no exception.
If you look on the back of any reggae record and read the words: Band: Roots Radics, Producer: Henry "Junjo" Lawes, Mixed by: Scientist then you already know that the music contained in that record is going to ram. It really doesn't matter who is singing on the track those 3 ingredients alone are so potent that the tunes are always going to be really quality.
At any rate this "Robin Hood" LP came out in 1979-1980 right after the previously mentioned "Englishman" LP.
All of the following tunes waver sonically between dubbed out roots and early dancehall. It is also worth pointing out that Barrington Levy's catalogue is far deeper then what you're used to with "Murderer", "Under Mi Sensi", "Black Rose" and is really worth exploring if you get the chance.
Barrington Levy "Why Did You Leave Me"
mp3
Barringtom Levy "Many Changes In Life"
mp3
Barrington Levy "Nah Broke No Fight Over No Woman"
mp3
Barrington Levy "Eventide Fire A Disaster"
mp3
Enjoy!