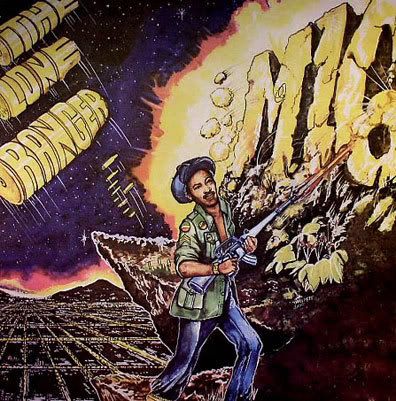 Lone Ranger is one of the most imitated deeejays of all time bar none. His style may as well be a "how to" for any Jamaican youth wanting to chat 'pon the mic.
"M16" finds Mr. Ranger at his best with backing by Sly and Robbie, Dean Frazier, Ansel Collins, and Scientist who handles the boards.
The sleeve art looks like something you'd see painted on a kick ass van in Santee.
I can't really say much more about this album except that it's a staple for any one serious about good reggae.
Right......Ribbit!
Track-listing:
1. Natty Burial
2. M16
3. Up Town Style
4. Sky Juice
5. Skank Steady
6. Rise & Meet Jah
7. Fist To Fist
8. Wicked A Go Run
9. Sat Upon The Rock
Lone Ranger "M-16"
Full Album
For more on Lone Ranger check out:
www.RangerStyle.com