Taken from Wikipedia:
Winston Foster grew up in a Catholic orphanage called Alpha Boys School in Kingston, and was shunned due to having albinism, which was usually not socially accepted in Jamaica. Alpha Boys School was known for its musical alumni. In the late 1970s Yellowman first gained wide attention when he won a contest event in Kingston, Jamaica called "Tastee Patties" where DJ's would perform toasting. Yellowman became the first dancehall artist to be signed to a major American label by 1981 (CBS Records). Over time he became regarded by some as a sex symbol and even managed to gain fortune and fame by directing attention to his physical skin complexion in several of his songs.
Ed*
Released in 1982 "Mister Yellowman" is probably my favorite LP of King Yelllowman's seeing as it seems completely cohesive as an entire album. All the backing for the riddims is by Roots Radics and a man called "Junjo" is at the controls.
This is one of the cornerstone albums that anyone should have for rub a dub. Not to mention that when you include that Yellowman is an albino Jamaican that made himself into a heavily sought after sex symbol and is the o.g of "back then they didn't want me, now I'm hot and they all on me."
I caught a Yellowman show at the House of Blues in SD a while back and although albinism is degenerative and has been destroying his body and vocal cords the man still ruled the crowd with stage presence that you couldn't beat.
Enjoy!
Tracklisting:
1. Natty Sat Upon The Rock
2. Lost Mi Love
3. Mister Chin
4. Two to Six, Supermix
5. Morning Ride
6. How You Keep A Dance
7. Jamaica A Little Miami
8. Yellowman Getting Married
9. Duppy or Gunman
10. Cocky Did A Hurt Me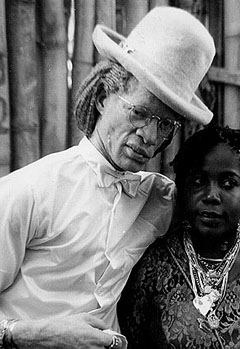 Yellowman "Mister Yellowman"
(Full Album) mp3