I came across this book a few months ago and immediately wolfed it. I had no idea it existed until I saw it on the shelf. The book features photos from Beth Lesser who apparently was living in JA during the eighties who somehow managed to live and photograph nearly everyone that was relevant in dancehall at the time.
The book is full of photos of nearly everyone: Tiger, Johnny Osbourne, Johnny Clarke, Purple Man, Yami Bolo, Pinchers, Prince Jazzbo, Jammy, Nitty Gritty, Cocoa Tea, Admiral Bailey, and the list goes on.
Besides the photos there is a good amount of insightful writing about dancehall culture, artist bios, life in Waterhouse, Jamaican culture, and so on.
Obviously, I am a complete geek for this book, but you have to understand how rare it is for someone to have photos from this era. Jamaica has always been a third world country and outsiders are not welcomed in. It is a gross stereotype to think Jamaica is this warm an serene place. Most folks think of resorts and postcard esq beaches which is true when you're staying at a resort, but when you actually are born and raised in Jamaica it is a whole different scene.
Thankfully someone managed to capture the era on film.
Here's some of my favorite pics from the book.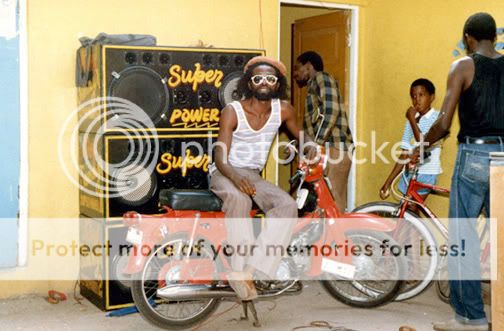 Link:
Buy it
HERE