It has become pretty cliche to do a "R.I.P" or "Tribute" post on a blog for deceased musicians/artists/whoever, but some people resonate enough with me that I think it is totally valid to drop one even if you didn't know them personally. I mean honoring the loss of life can't get "played" out can it?
I hope not.
Yabby You a.k.a Yabby U a.k.a Vivian Jackson was by far my favorite roots artist. That is saying a lot for someone that has been obsessively listening to the music for 15 years.
I'm not going to do some huge bio of the dude's life you can read that
HERE
.
I will however put you on to my favorite tunes.
4 Yabby You Albums
* Need to upload "Jesus Dread" myself, but still some heavy tunes on this link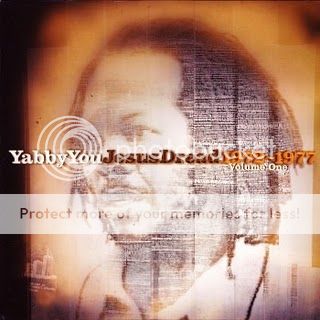 I would start with this "Yabby You "Jesus Dread 1972-1977" Two-Disc
This covers most of his best works and also has everyone you could imagine in the studio with him at in their collective primes such as: Dillinger, Trinity, Tapper Zukie, King Tubby, Wayne Wade and Big Youth. The Tubby versions are MANDATORY listening. Yabby's lyrics compliment the haunting armageddon-esq tunes so well it should be a crime. These versions really give you a good feel of what versions should sound like: rougher, heavier, and dubbier. (I know that is not a word)
If you're looking for his vinyl make sure you check for the name Vivian Jackson as he wasn't really called Yabby You in print as much. Even though that is his most known nom de plume.
I would challenge even the most hesitant roots listener to try Yabby You. Even my friends that rank on me for liking reggae will fuck with this 2 disc. Usually while being all spleefed out in a van, but they end up always asking me "Who is this again?" when it's playing in the car.
I've been lucky enough to see many of the roots artists that I have wanted to see live unfortunately I never got to see Yabby play. If anyone has dubplates or tribute mixes in the works please feel free to forward them on in the comments.
Again, rest in peace to one of the best roots musicians of all time.
Now we haffi' run one the hardest tunes ever cut: "Conquering Lion" riddim