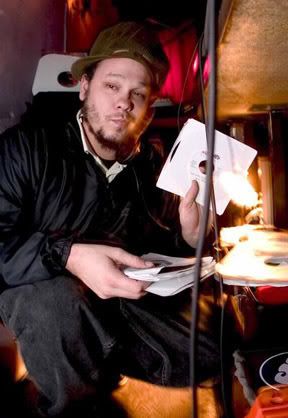 When it comes to dancehall business there is always one person who I can turn to when all other roads have failed.
Hugh Knight a.k.a Unite
Unite has been juggling 45's since well.....probably since he was born. So whenever I need answers or a tune I just simply ring him up and it's sent to my email no questions asked within the hour. Well as long as he has time between rolling spliffs.
That being the case it is vitally important you check his blog frequently as it is one of the best places to get dancehall news, tunes, dubplates, history etc and if that isn't enough he has you covered on hip-hop, funk, soul, and even a little graff business from time to time. So if you're not sold on that just check him yourself at his new url:
PartyAt45RPM
(now on WordPress)
P.S Also check out the newest Vybz Kartel tune he posted because that tune is gonna run the road for sure after the dust settles down from the Mavado vs. Vybz clash at this year's Sting 2008.
Sub-note: After watching the youtube clips of the clash and the listening to the full audio I am going to be diplomatic and say I don't think either artist really displayed any ability to throughly control the crowd over the other. I think Vybz was more articulate with his chat and Mavado sounded a bit inexperienced to tell you the truth. But in the end I'm just sort of disappointed with both of these deejays. This clash doesn't hold a candle to any of the big Sting moments from the previous years. Ninjaman comes out at the end and has the best line of the whole clash "Me suck yu motha, but yu motha suck me." Classic Ninja f*ckery. Gotta love The Gorgon.