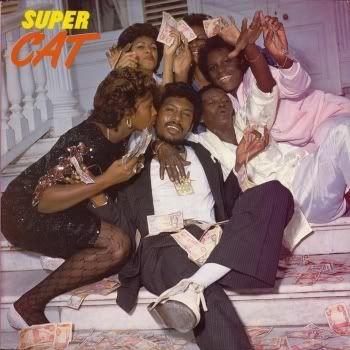 Supercat a.k.a Don Dada was the prototype for all dancehall deejays that came after. He has an almost perfect chat style. His patois is more subtle then his contemporaries and was partly responsible for his crossover success in the early 90's. Many consider him to be the pioneer responsible for the fusion between dancehall and hip-hop/R&B. You could even make the argument that Sean Paul lifted his entire style from the formula Supercat had created.
Granted there are a few other artists that could possibly make the claim to have been the first to do it, Supercat probably did it the best.
Sub-Note: How off the charts is that cover by the way?
"Si Boops Deh" was the first full length by the Don Dada and contains all of his early classics.
Track Listing:
1. Pops
2. Move Up
3. What A Ride
4. Terminator
5. Charity
6. Boops!
7. Vine Yard Party
8. D.J Daddy
9. Jamaica Jamaica
10. Hot Cat Go America
Download:
Supercat "Si Boops Deh"
Full Album