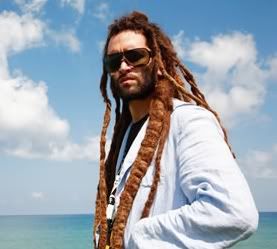 I thought Alborosie was going to be a flash in the pan in the dancehall world. Wrong! Dewd has been destroying the scene ever since he popped up on the charts with "Herbalist" and then 'Kingston Town".
A lot of people ask me where you can get his music, but unless you grab a bootleg there's really no where to go to find it except on 7 inch.
I don't own 45's but I do hunt down digital 7 inch conversions from time to time. I grabbed these tunes for everyone bugging me for some Alborosie.
Run it!
Tracks:
1. "Meditation" w/Sizzla
2. Sound Killa (big, big , big tune)
3. Nuh Betta Than Me
4. Rastafari Anthem
Links:
Jamaican Observer Article on Alborosie
Download:
Alborosie "7 Inch Picks"