Thought it was time to flick some of my art in the crib. I've accumulated quite a little collection from friends and trades. I'm going to split this post into 3 parts cause it's a lot of art and there's decent stories behind most of the pieces.
First up: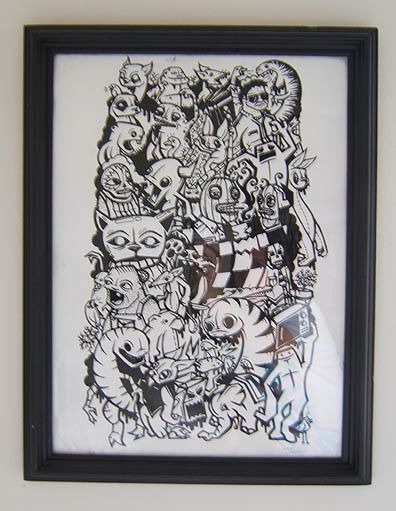 Above: Screen print from the SDTW show from last year by Nick McPherson
The picture is a bit foggy, but you get the idea. Nick just made one big ass drawing one day and decided to screen these for the show. I don't think Nick even used pencil and he just inked it in like he works at Marvel or some shit.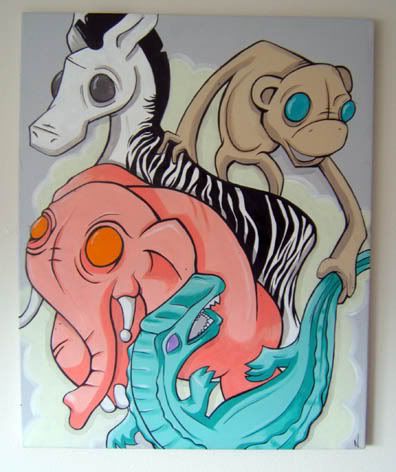 Above: Another Nick McPherson piece (acrylic and ink). He did this when our son was born last year. Normally he would have the animals drinking booze and getting all violent, but he felt that would send the wrong message in the nursery.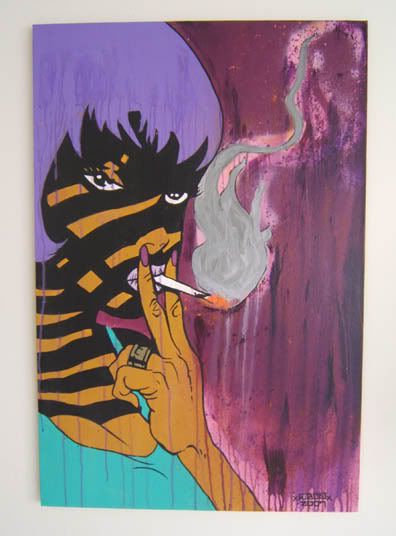 Above: This one is mine. I did it for a commission I had. I like it. No real story behind it. I just had to get it out for a paycheck.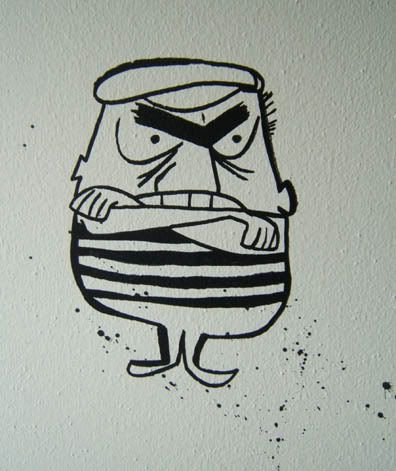 Above: Small character I drew on my wall with black ink. Nothing too special about little fat French dude, he's just pissed off and French.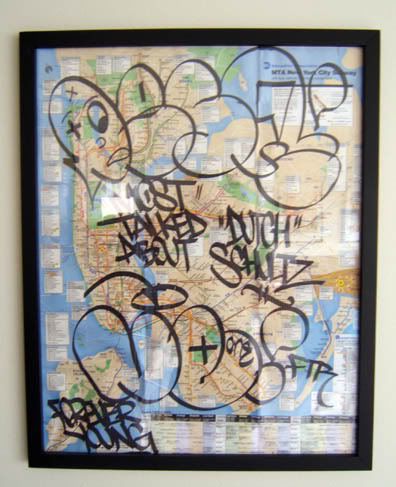 Above: MTA map by Desa MTA, VE One R.I.P
This is probably my most prized piece in many ways. I got one of the first copies of
Million Dollar Vandal
and this came with it. I was geekin when I took it out. After reading the book you get such a greater understanding of what happened to Desa. It's not that Desa is the greatest or most prolific writer of all time by any means, he simply paid the ultimate price for writing and suffered enough to make 99% of writers want to quit, but he didn't. The fact that this guy can still pick up a can and a mop and go out amazes me. It reminds me everyday why writing is so important.
The VE throwie is a nice touch too. Forever Young indeed.
I will post up Part 2 mana.
Diggin' In The Links:
Tried by 12 video circa 96'
Ed* Probably one of the greatest hip-hop songs ever....duh
New Stussy/Ghost tee for the ladies
Ed* Straight letters no chaser