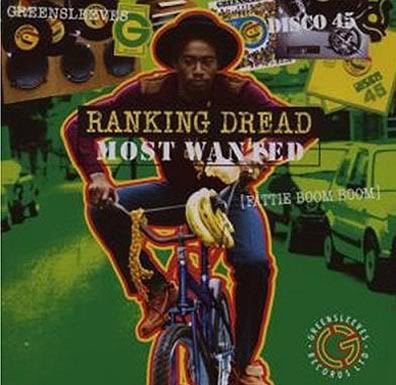 I first heard Ranking Dread on old mix I did with Tribe of Kings. I was at Rashi's house and he threw on "Superstar" on and I was instantly obsessed with Ranking Dread (no batty).
Ranking Dread burst onto the scene in 1980 having come up on Ray Symbolic Sound System before moving to the UK where he held the mic down for Outernational Sound.
Later that year he released a full length LP
"Lots of Loving"
which was co-produced by Sugar Minott.
The rest of his catalogue is scattered out on 7 inches with the exception of "Ranking Dread in Dub" and "2 Dread Inna Babylon."
Greensleeves decided to re-issue 6 tunes plus dub versions for each cut and throw them together with some really good linear notes and original photos.
The end result is one of the better re-issue albums I've heard in a long time.
Ranking Dread "Fattie Boom Boom"
mp3
Ranking Dread "Love A Dub"
mp3
Ranking Dread "Shut Me Mouth"
mp3
Ranking Dread "If Nanny Was Here"
mp3
Ranking Dread "My Mammy"
mp3
Ranking Dread "Jean Green"
mp3
All of these tunes were produced and mixed by Ranking Dread except for "Jean Green" which was done by Henry "Junjo" Lawes.
While "Fattie Boom Boom" is probably the biggest of these tunes my favorite is "Shut Me Mouth" which is a version of
Dennis Brown's "Breaking Down The Barriers."
Download and enjoy.