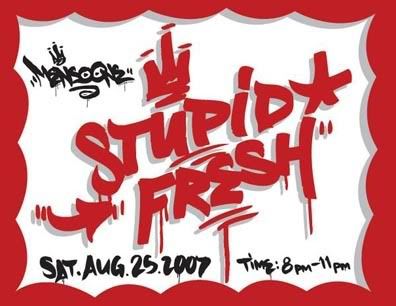 Tonight is the opening night for Menso's first solo show.
So get your butt up or down to
Versus
and show some love.
The first time I met this kid was at some sort of underground hip-hop show out in Carlsbad of all places. He was writing for the now defunct Bashers crew back then. We ended up going to one the first Rancho Santa Fe mansion parties made famous by the Real World San Diego episode and we jst never stopped hanging since then.
Shortly after that he just ended up living on our couch in downtown SD with Icepick AFF and the both of them got me to start writing. That summer was easily the best time of life. Menso was then made an official member of the world famous Seventh Letter Crew and after a couple run ins with the pigs, his car getting stolen, numerous racking/bombing missions, he ended up getting his shit organized and now works at Heritage Tattoo Studio in Temecula and does comissioned pieces on a weekly basis.
It's been a long road for him.
I'm proud of how far he has come.
Keep it up.