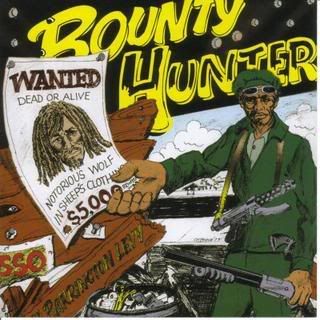 Above: Record cover for "Bounty Hunter"
All of the following tracks are taken from "Moonlight Lover" but first appeared on Barrington's first LP "Shaolin Temple" that was released only in Jamaica, but came to the U.S under the new title "Bounty Hunter" with most of the same tracks intact save for alternate lyrics on some of the songs.
Run em'.
Barrington Levy "Bounty Hunter"
mp3
This is probably the biggest tune from the album. The fact that Barrington was all of 17 when this was recorded is just mind numbing.
Barrington Levy "Jah Life"
mp3
This tune is sort of the sleeper stand out on the album for me because Barrington really gets the show off his vocal range and hit those super high falsetto notes that he's so well known for.
Barrington Levy "Walk 2000 Miles"
mp3
Alternate lyrics over the same "Bounty Hunter" version that appears on this album. I've always liked it when an artist flips new lyrics, but uses the same vocal melody.