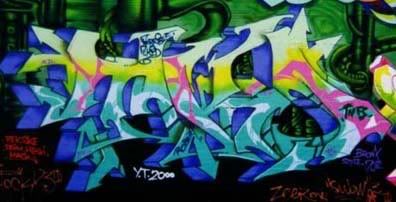 Last year I had set-up a book signing tour for the West Coast release of
T-Kid 170's
The Nasty
.
T-Kid had a signing at
Crewest
that afternoon, but before the signing we planned on painting at Frame's big LA jam. The list of writers painting was pretty impressive Persue, Mear, Retna, Rime, Argue, Neon, Apex, Jase, King 157, among others.
During the jam we met up with the crew from Bomb It: The Movie. Tracy and crew said they wanted to film later that night and get some bombing footage.
To make a long story short I ended up painting with T and Augor CBS on the 10 Freeway. What I didn't know is that the scene would make the final cut and the film would be premiering at the Tribeca Film Festival later this month.
Peep the trailer on their Myspace page
HERE
Bomb-It at the Tribeca Film Festival
Diggin' In The Links:
Gnar Toon
Ed* If you like weed and cartoons thanks Nick
Ghost Originals For Sale
The Rub on SoulStrut
Ed* More hip-hop mixes then you can handle