Vybz Kartel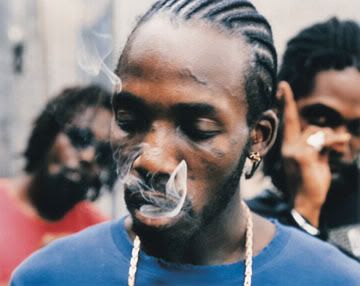 Mavado
From what I can glean in the news the last few months from the news dancehall has seen an increasing amount of friction between The Alliance (Bounty Killer's Crew) and one-time former member Vybz Kartel.
Kartel left The Alliance just recently after having his loyalty questioned by recording a tune with Beenie Man, dancehall super star and long time rival of Bounty. Mavado being in The Alliance decided to up the ante and take a blast at Kartel and now the answer tracks just keep coming.
Although, this makes for great headlines and news I personally feel that the "hyping" of beef is always dangerous and in Jamaica it is doubly so. I'd much rather see these two "squash it" and move on before we lose another artist to ignorance.
With that being I said I've uploaded the tracks because they're both really good tracks and the new "Drum Line" Riddim ain't too shabby either.
Enjoy.
Mavado "New Name Fi' Informer (Vybz Kartel Diss) mp3
Vybz Kartel "Pussyhole Mfraudo" (Mavado Diss) mp3
*To download mp3s click on the link and then click download now
Mavado vs Kartel Related Stories:
Mavado's barbershop attacked during a drive by
Lyrics from "New Name Fi Informer Mr. Palmer" (Kartel Diss)
Diggin' In The Links:
Dude fights off Great White Shark
Ed* If a shark ever attacks you just knock em' out and tell them you don't play that shit
All Gay Rap Tour
Michael Jordan to returns to marriage