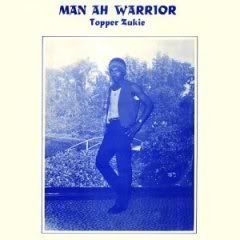 Tappa a.k.a Tapper a.k.a Topper Zukie
Taken from wikipedia:
"Tapper was the nickname given to him by his grandmother in his youth, while Zukie was the name that came from his friends' association as a young boy, their gang called "The Zukies".
In 1973 his mother, worried by Zukie's tendency to get into trouble, sent him to England to stay with some relatives. Producer Bunny Lee arranged with UK-based entrepreneur Larry Lawrence for him to undertake some recording sessions and live shows, opening for Jamaican DJ pioneer U-Roy the day after his arrival in London. Zukie's first release was the single "Jump & Twist", produced by Lawrence. Around this time he also recorded material for Clem Bushay which would later form part of the Man A Warrior album, issued in 1975."
Ed* Tapper gained a cult following after "Man A Warrior" was released by immigrants and skinheads a like. His music was crucial in bringing the blue collar folks of all colors and creed to the dance to mash up.
Man Ah Warrior includes some of his best known works and does well as an album or in single servings.
Enjoy!
Tapper Zukie "Black Cinderella"
mp3
Ed* "I'm a jack of all trade, i mon shaper then a razor blade..."
Tapper Zukie "I Ra Lion"
mp3
Tapper Zukie "Simpleton Badness"
mp3
Tapper Zukie "Zukie Fashionwear"
mp3
Ed* "Solomon a gun day..."