Timbaland is now beefing with Scott Storch and vice-versa.
Storch's Timbaland Diss on XXL
Ed* Is this for real? Producers are now jumping into the beef soap opera? Who's next body guards? P.R Agents?
Lame.
Both of these dudes are off my radar for the most part anyways so it's not ruining my day at all.
What value is there in Scott Storch? I mean what can I say about Scott Storch that hasn't already been said about shark's mating?
Dude is so foul looking. He's definitely runner-up for worst dresser in hip-hop right behind Eminem.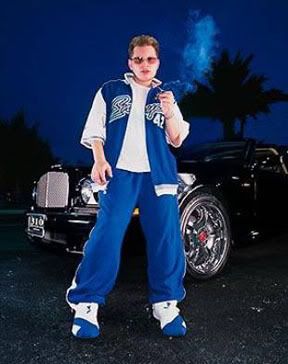 Ed* How do you own a Phantom and then dress like you're 10 years old and Puerto Rican?
And Timbo?
Uhhh...he's fat then sort of buff then fat again and he's always wearing super metro-sexual Ed Hardy tees that got glitter and bedazzled jewels on them and sh*t. It's no wonder why hip-hop is so snoring of late.
Moving on....
Diggin' In The Links:
Dope new French doc called "28 Millimetres" by JR
(Thanks Mel-One)
Samuel Jackson + The RZA + Weed + Cartoons + Ninjas = Rad
Finally out on dvd in the U.S. cop it!!!